The SmartVideo App UI allows you to fetch reports for a specified time period as illustrated in the image below . Each record can include/exclude the following parameters by selecting/unselecting the associated check box:
From call or caller

– either Customer or Agent, depending on call direction

To call or callee

– Either Customer or Agent, depending on call direction

Type of call

– The Genesys Cloud SmartVideo app supports three types of calls – Video Call, Chat Session, and Screen Share Session.

Duration of call

– Defined as time between the time when caller start a session and the time when the call has been hung up.

Talk

– The time when both parties – Agent and Customer – are in session

Reason

–Text field describing the reason to end a call. Reasons describe who ended the call (Caller/From or Callee/To) and how the call ended (Closes the window - party closes browser window, hangups the call - party ends the call from the red hangup button).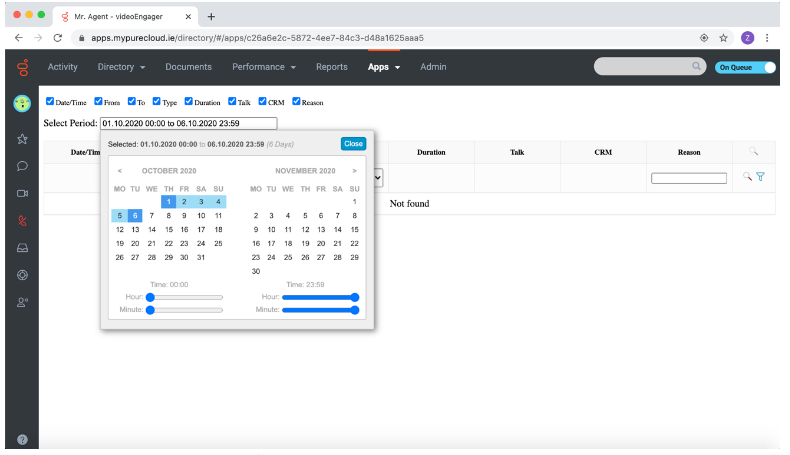 Upon selecting the desired options, the report will be generated by clicking on the "Close" button. This will fetch all the available data as per your configuration options and will display them on the supervisor screen as illustrated below.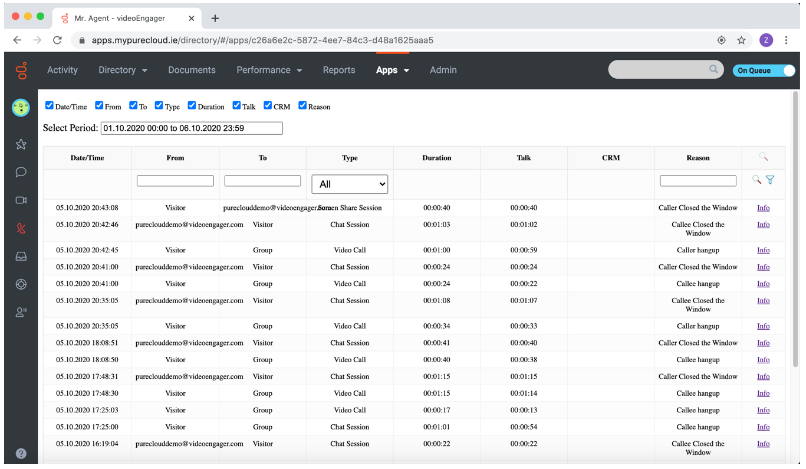 Once the report is generated, the supervisor can filter records based the From, To and Reason fields. an additional filter can be applied from Type drop down menu, which can filter our certain types of calls.