Working from home is becoming a norm since the World Health Organization declared COVID-19 a pandemic. Millions of people have lived and worked remotely through lockdowns. Remote workforces around the globe leverage different video-conferencing tools and services to enhance their productivity and effectively replace face-to-face team and customers meetings.
VideoEngager Inc. is an omni-channel solution provider, with one of the channels being video. When using our video channel, our customers typically have their support agents at home with a need to present to their visitors a professional look and add an extra privacy. One way to achieve this objective is by having the ability to turn a virtual background on.
At present, VideoEngager Inc. does not support virtual background natively and we rely on third-party providers to add extra capabilities. Below, we present to your attention a few third-party apps that would help you to adding virtual backgrounds in your SmartVideo video calls. It is easy and takes only a few steps.
1. OBS Studio
OBS Studio is free and open source software for video recording and live streaming. It supports Windows, Mac (after v10.13) and Linux. Basic OBS capabilities can be easily extended by means of plugins. A useful plugin is OBS-VirtualCam. It adds a virtual camera, which can be used as a video source for other video tools and services, incl. your SmartVideo. Background removal requires a little extra effort and technical skills, so might not be a trial solution.
2. ManyCam
ManyCam is an app supporting both, Windows and Mac computers. It basically adds multiple video sources, incl. images, to live video calls and streams.
3. ChromaCam
ChromaCam is a virtual background app for both, Windows and Mac desktops. With ChromaCam's easy-to-use interface, agents can quickly remove their background or blur it. The "lite" edition is FREE to use and lets you replace agent background with a standard image.
4. Snap Camera
Snap Camera is a free app for both, Windows and Mac desktops. It offers an extended range of capabilities, such as prebuilt lenses, filters and backgrounds. When turned on during a video call, Snap Camera replaces the input of your agent webcam with the selected lens or virtual background and streams the augmented video to your customers in real time.
How to add virtual background in SmartVideo
Next, we present a quick way to add a virtual background in SmartVideo by using SnapCamera.
Most computers made in the last few years can run Snap Camera just fine. Here are the specific system requirements:
Operating System: Windows 10 (64 bit); MacOS 10.11+
Hardware: Minimum of Intel Core i3 2.5Ghz or AMD Phenom II 2.6Ghz with 4 GB RAM; Intel HD Graphics 4000 / Nvidia GeForce 710 / AMD Radeon HD 6450; screen resolution of 1280x768 or higher
Step 1. Download and install SnapCamera. Once installation is complete, keep it open.
Step 2. Hit "Search Lenses" text input field and type custom background. At the moment this article was written there were several providers of lenses delivering custom background. Select one of them and hit "Select Image" button. It will allow you to select and apply your preferred background image.
Step 3. Open SmartVideo and before starting a call set camera source to "Snap Camera", as shown in the picture below.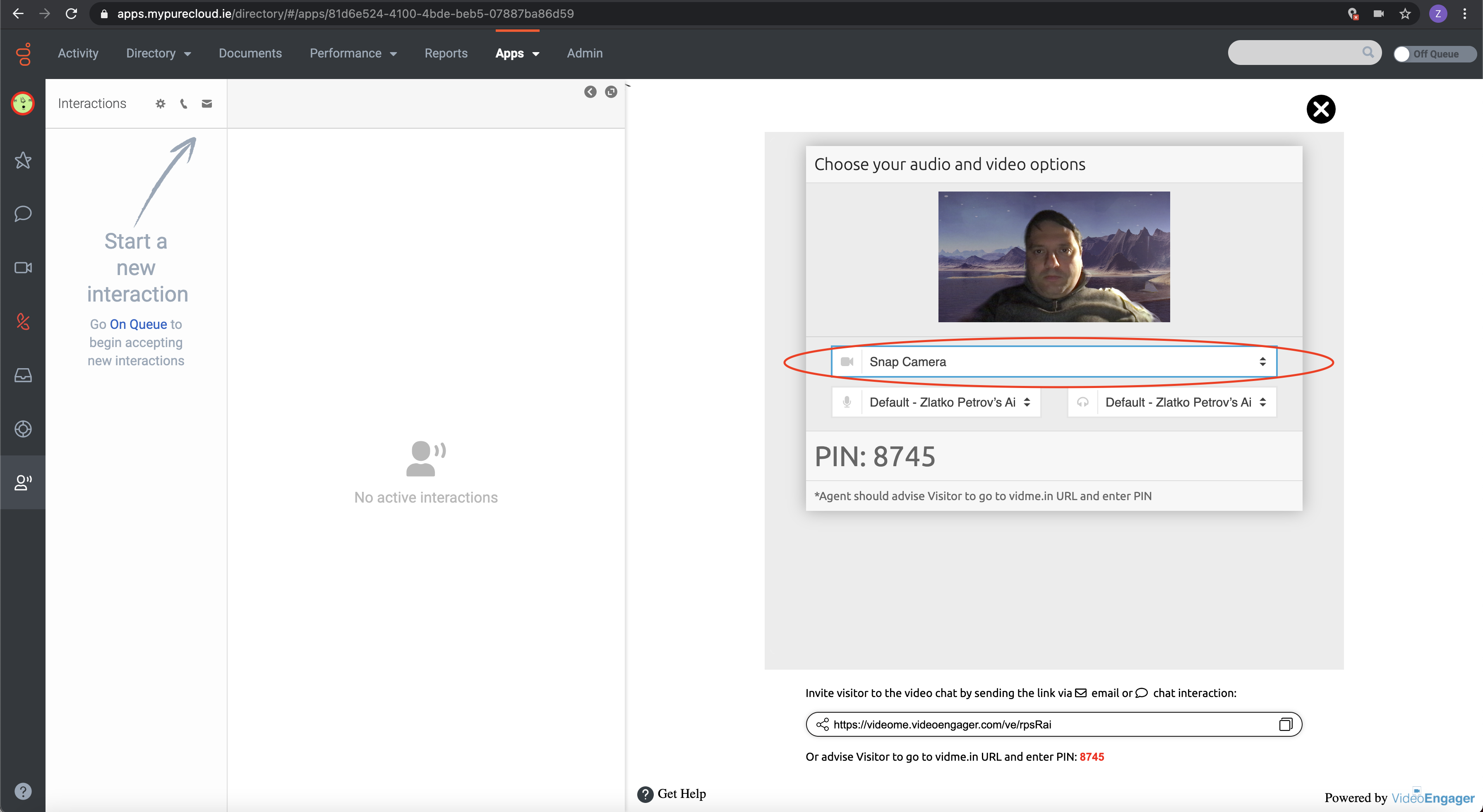 If you have any questions, please contact our support team, and we will be happy to help.
We listen to our customers
We, the VideoEngager team, believe that addressing customer pains in timely manner is of utmost importance and key to success for all stakeholders. Our team is highly responsive to customer request. We would like to encourage you to share any suggestions for improvement of troubleshooting guide. To do so, please contact us by sending email to our support team.