VideoEngager for Talkdesk
VideoEngager allows for customer – agent escalation from chat, email, voice, SMS, and social media to live, interactive video chat to further enhance the customer experience. Customers and agents are able to interact using best in class audio and video technology on any device, on any internet connection, utilizing a wide range of desktop or mobile browsers (list of supported browsers).
Key Features
No plug-ins or downloads, just a link

-

Easily connect with a customer through live video chat on any platform with no installation directly through the native browser;

High quality audio and video calls -Using the latest audio and video codecs, VideoEngager delivers crystal clear video quality utilizing WebRTC technology.
Screen Sharing - Screen sharing allows a customer to share quickly visualize their problem to the agent or for the agent to present a more efficient solution to the customer visually;
Video call recording - Allows the agent to record their interaction with the customer and integrated with Talkdesk. This is essential functionality across many verticals such as banking.
Works on most popular desktop and Mobile Browsers - Chrome, Firefox, Opera, MS Edge and MS IE, as well as iOS and Android browsers. Native mobile apps are available for internal company use by the agents;
Intuitive and easy to use -VideoEngager is easy to setup and use directly from Talkdesk. Escalation to a live video call between the customer-agent occurs with the click of a video call icon through our integrated application.


Native Mobile Application integration - Through the VideoEngager Mobile SDK, customers can integrate VideoEngager seamlessly into their native mobile applications for Android and IOS, adding a new channel of customer interaction without having to revamp their entire application.
Reporting and Analytics - VideoEngager offers a comprehensive array of tools to report and track interactions integrated directly into the application on the Talkdesk.
VideoEngager for Talkdesk In Call Functionality
The Agent In Call Functionality is displayed in the image below as well as a description of the available features.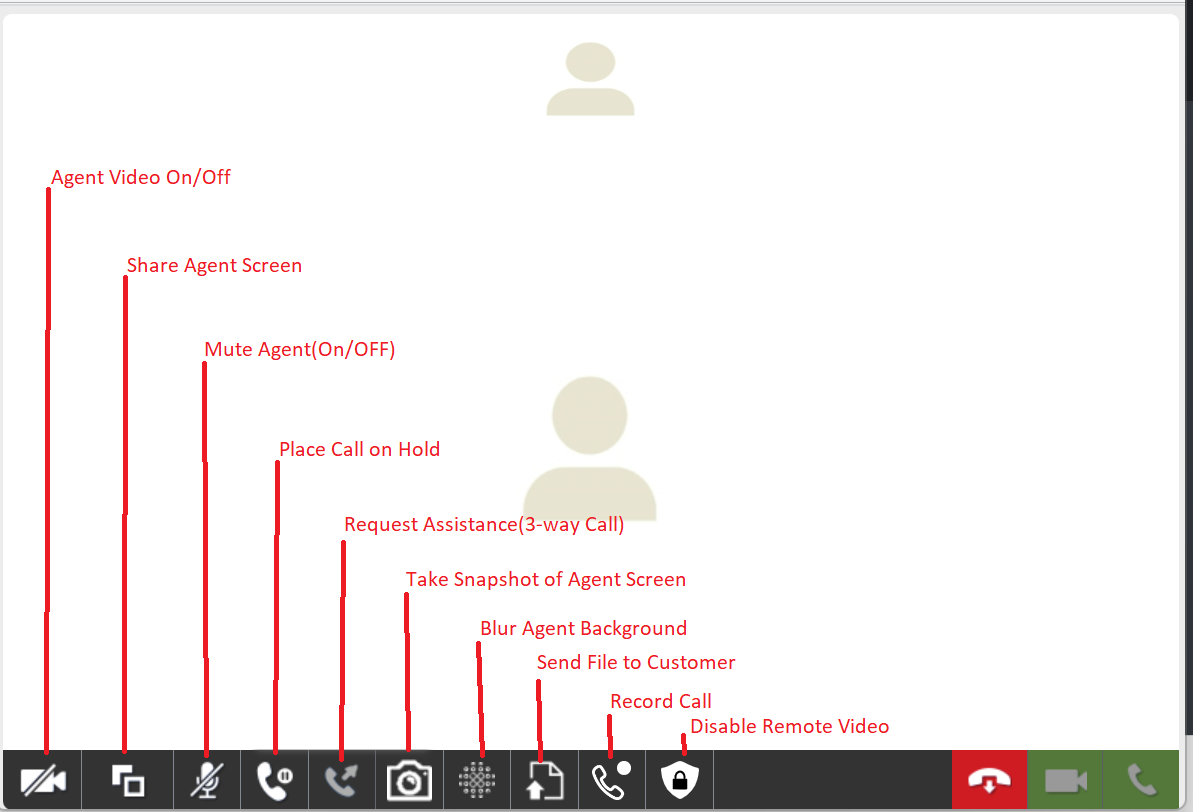 Agent Video On/Off - Turns the agent's video on or off
Share Agent Screen - Allows the customer to see agent screen
Mute Agent - Turns Agent's microphone on/off
Place Call on Hold - Places Call on hold
Request Assistance - adds an additional agent to the video call
Take Snapshot of Agent Screen - Takes an image of the video call at the time the button is pressed
Blur Agent background- Blurs the background behind the agent
Send File to Customer - Allows the Agent to send a file to the Customer via P2P Transfer
Record Call - Records video/audio of call in progress
Disable Remote Video - Disables remote video
Customer In Call Functionality
The In Call functionality of the customer who is contacting an agent via the VideoEngager browser widget is displayed in the image below as well as description of the available features.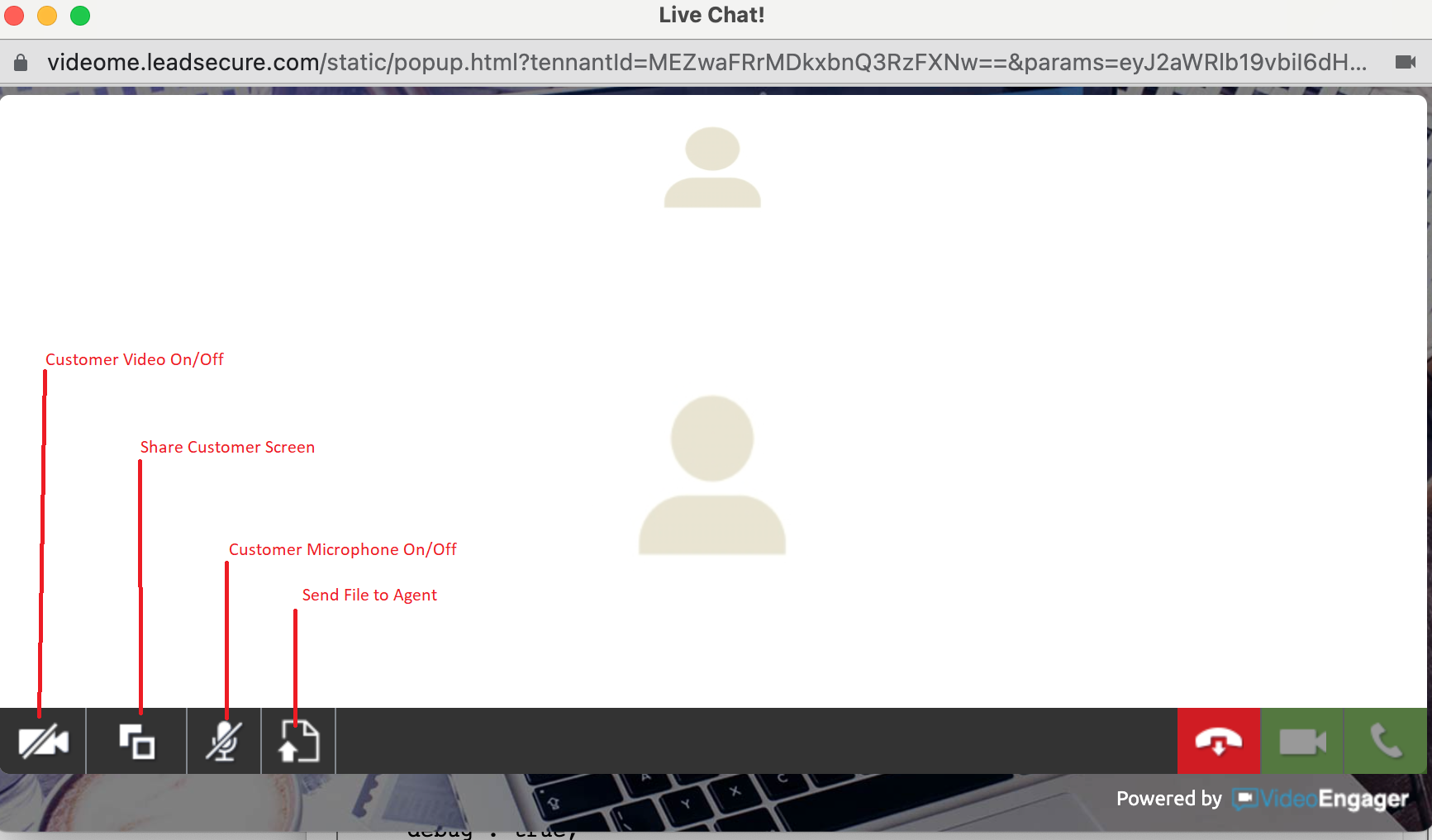 Customer Video On/Off - Turns the customer's video camera on or off during the call
Share Customer Screen - Allows the customer to share his screen with the agent
Customer Microphone On/Off - Turns the customer's microphone on or off during the call
Send File to Agent - Allows the customer to send a file to the agent via P2P transfer
Settings for the Agent/Redirect Links
Settings for what functionality is available for the agent as well as the ability to insert redirect links for once the call has ended can be found by clicking the cogwheel icon on the left side of your Talkdesk interface as illustrated in the image below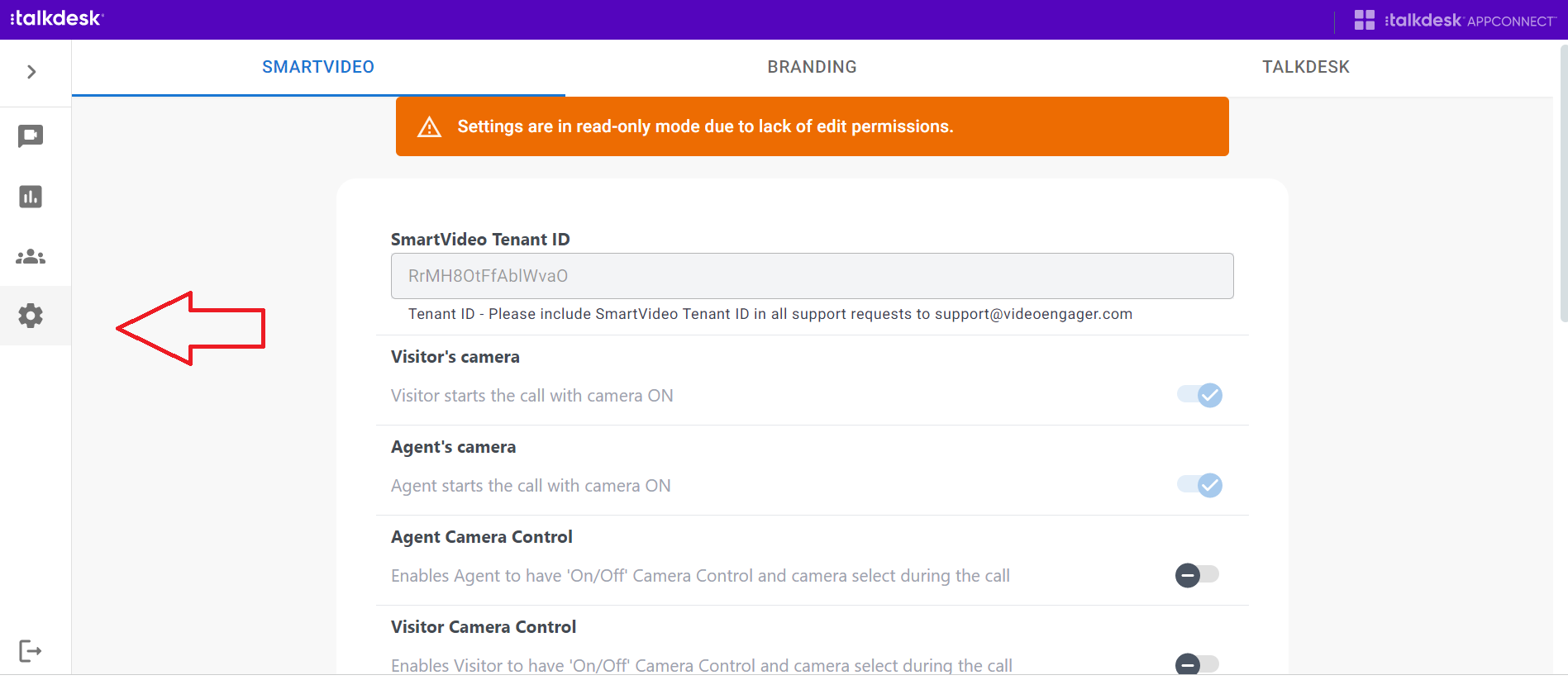 Reporting for VideoEngager
VideoEngager provides reporting and analytic dashboards, as well as API for integration with advanced analytics products. The VideoEngager Reports can be accessed from the lefthand side of the Talkdesk interface by clicking the graph icon as illustrated below: